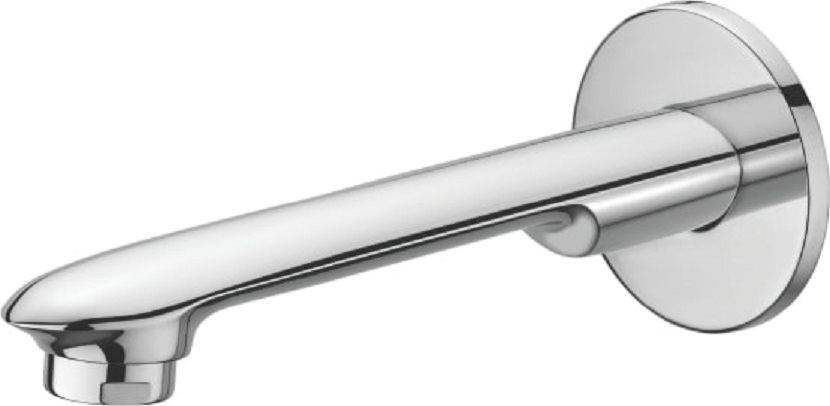 Durability, use, and aesthetic appeal are crucial factors when choosing bathroom fixtures. Due to their great advantages and capacity to improve the bathing experience, stainless steel bathtub spouts have become incredibly popular.
We explore the benefits of a Stainless Steel Bath Tub Spout in Rajkot in this article. We will be emphasising why both homeowners and industry experts choose them.
Superior Durability
Bathtub spouts made of stainless steel are recognised for their outstanding durability. Because stainless steel is so resistant to rust, corrosion, and staining, it is the perfect material for bathroom fixtures. This comes in contact with moisture and water. These spouts are durable and keep their aesthetic appeal even after extensive usage.
Without degrading or losing its structural integrity, it can survive the severe bathroom environment. This includes exposure to water, steam, and different cleaning chemicals. Stainless steel's durability ensures a long-lasting and low-maintenance bathtub spout. It gives homeowners peace of mind and prevents them from needing frequent replacements or repairs.
Design that is Classic and Beautiful
A broad variety of bathroom styles are complemented by the classic beauty of stainless steel bathtub spouts. Any bathroom looks more upscale because of stainless steel's sleek, polished appearance. A Stainless Steel Bath Tub Spout in Rajkot perfectly complements any bathroom's style, whether it be modern, classic, or contemporary.
Additionally, stainless steel's sleek lines and simple form provide a visually appealing focal point in the bathroom. This increases its overall mood and establishes an opulent bathing experience.
Cleanliness and Ease of Cleaning
Keeping a bathroom clean and hygienic is crucial, and stainless steel bathtub spouts help achieve this. Because stainless steel is not porous, it cannot support the growth of germs, mould, or mildew. This makes cleaning a breeze. All it generally takes to keep the spout spotless is a quick wipe with little water and a light detergent.
Stainless steel also resists stains and fingerprints, lowering the frequency of polishing or the requirement for special cleaning agents. You and your family may enjoy a safe and healthy bathing experience because of the stainless steel's sanitary qualities.
Resistance To Heat And Moisture
Stainless Steel Bath Tub Spout in Rajkot frequently come into contact with water, and stainless steel excels in withstanding heat. High temperatures won't cause it to distort or lose its structural integrity. This makes sure that the bathtub spout is safe. It continues to work even after being exposed to hot water for a long time.
The strong water resistance of stainless steel shields it against staining and damage from the elements. Due to these qualities, stainless steel is the best material for bathtub spouts. This assures its durability and dependability in any bathroom setting.
Sustainable And Eco-Friendly
Deciding to use sustainable materials for home furnishings is essential at a time of rising environmental consciousness. Tub spouts made of stainless steel are already environmentally friendly. Bathtub spouts made of stainless steel lessen the need for new resources because the metal is recyclable.
Additionally, the manufacture of stainless steel uses less energy than that of other materials, making it a greener option. By choosing a stainless steel spout, homeowners can support environmentally friendly practices and lessen their carbon footprint. They can take advantage of a sturdy and fashionable fixture.
Adaptability to Different Plumbing Systems
A variety of plumbing systems are compatible with Stainless Steel Bath Tub spouts in Rajkot. They are available in many forms, such as wall-mounted and deck-mounted alternatives. It makes it simple to install and integrate them into current plumbing systems.
Accommodating different water pressure levels, stainless steel spouts provide a steady and dependable flow of water during each bath. Stainless steel bathtub spouts are appropriate for both bathroom restorations and new building projects due to their adaptability and compatibility.
Bathtub spouts made of stainless steel may be utilised in a variety of locations and have many different purposes.
Here are a few typical uses for bathtub spouts made of stainless steel:
Communal Restrooms:
Whether it's the master bathroom, a guest bathroom or a children's bathroom, stainless steel bathtub spouts are a popular option for residential bathrooms. They improve the overall look of the bathroom. It offers a dependable water supply for filling the bathtub while also adding a touch of beauty and utility.
Resorts And Inns:
Specifically at hotels and resorts, stainless steel bathtub spouts are frequently utilised in the hospitality sector. Stainless steel spouts aid in creating the opulent, high-end atmosphere that these institutions prioritise for their visitors.
They ensure that the bathtub is both aesthetically pleasing and practical for visitors, giving it a sleek and contemporary appearance.
Spa And Health Facilities:
Stainless steel bathtub spouts are frequently used in spas and health facilities to provide a tranquil and soothing atmosphere. In these situations, where water is a key component of different treatments and therapies, stainless steel is the material of choice. This is due to its endurance and sanitary qualities.
Commercial Establishments:
Commercial buildings including health clubs, stadiums, and leisure centres often use stainless steel bathtub spouts. These facilities frequently provide shower rooms where people may unwind or wash off after strenuous activity.
Spouts made of stainless steel are dependable and long-lasting, meeting the demands of many customers.
Medical Centres And Hospitals
Hospitals and healthcare institutions that use bathing or hydrotherapy as a therapeutic method also use stainless steel bathtub spouts. Patients and medical professionals may bathe in a sanitary and secure atmosphere because of stainless steel's hygienic qualities.
Educational Establishments
Some academic institutions, such as colleges and universities, could feature bathtubs in their residence halls or sports facilities. Due to their longevity, ease of maintenance, and corrosion resistance, stainless steel bathtub spouts are appropriate for these environments.
It's vital to remember that depending on the intended application, the precise design and specifications of bathtub spouts may change.
Conclusion
The best bathing experience is provided by stainless steel bathtub spouts, which combine durability, beauty, utility, and sustainability. They are a great option because of their remarkable longevity, timeless design, heat and water resistance, eco-friendliness, and compatibility.
By selecting a stainless steel bathtub spout, you may improve the appearance of your bathroom. You can benefit from a dependable, durable fixture that will provide you with years of opulent bathing enjoyment.