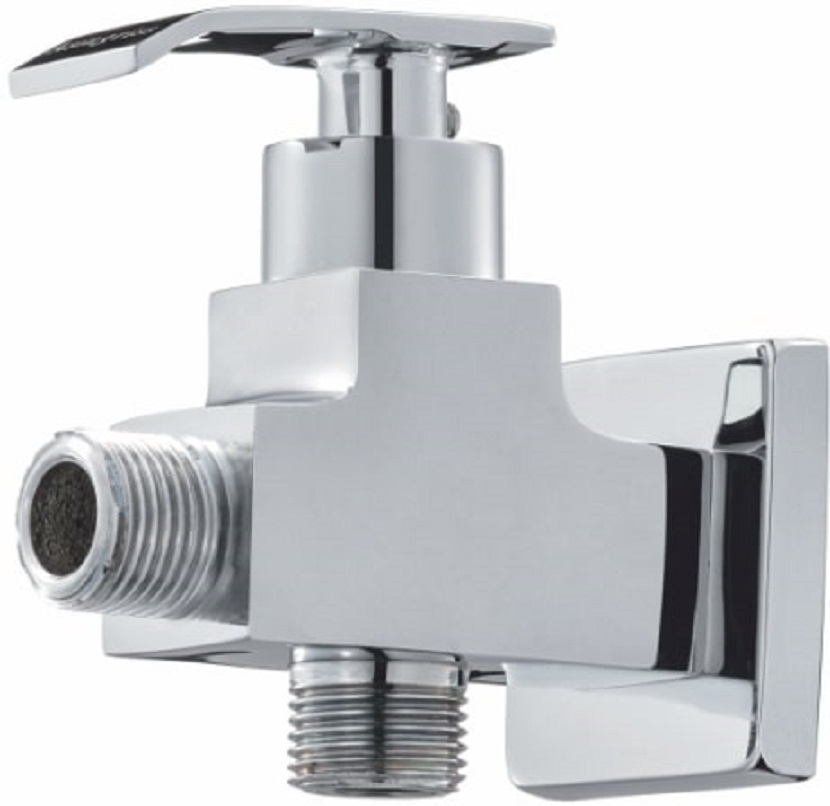 Way Angular Stop Cock with Wall Flange is important as it regulate water flow, reduce water waste, and guard against overflow. In this article, we will discuss the uses of way angular stop cock with wall flange. We will also discuss its advantages and tips to choose the right way angular stop cock with wall flange manufacturer.
Uses Of way angular stop cock with wall flange
Way Angular Stop Cock with Wall Flange is a plumbing device useful in both domestic and business plumbing systems that perform several crucial tasks. Its main function is to control water movement in pipes and turn off the water supply when necessary. It becomes a crucial instrument in situations requiring repairs or leakage because of this.
It is a helpful plumbing fixture that offers simple water flow control, simple installation and toughness. It also provides simple upkeep, advantages for conserving rooms, and flexibility. It is a dependable method to manage the water supply to particular areas of your house or place of business. This ensures that your plumbing system operates at peak performance.
The stop cock can also be useful to separate particular plumbing system components. It helps to control water movement to certain areas and adjust water pressure in places where it is high. Stop cocks at specific locations in multi-level structures to control the flow of water to particular levels or areas. The angled stop cock with wall flange is a useful and crucial component in any plumbing system, in the end.
Benefits of way angular stop cock with wall flange
A way angular stop cock with a wall flange has many advantages for both domestic and business buildings. Here are some specific advantages of employing a method of angular stop cock with wall flange:
1. Control Water Flow:
The ability to regulate the passage of water into a particular space is one of its main advantages. This is helpful in places like restrooms or kitchens where the flow of water needs to lower or stop completely. Placing a stop cock with a wall flange makes it simple to cut off the water flow to that area. This perk of way angular stop cock with wall flange saves both water and money.
2. Easy to Install:
It is simple to attach a stop cock with wall flange in the kitchen or restroom. The wall flange guarantees a snug seal and protects against leakage and water damage. The implementation procedure is simple, and a plumber or DIY aficionado can complete it.
3. Durability:
High-quality materials are useful to create stop cocks with wall flanges, giving them durability and longevity. They can endure high water pressure and chilly temps, guaranteeing long-term peak performance.
4. Easy Maintenance:
Stop cocks with wall flanges are simple to keep and need little scrubbing and fixing. The stop cock remains in top shape by routine cleaning, which also helps prevent any rust or grime accumulation. A plumber can quickly complete any necessary adjustments.
5. Space-Saving:
It is an efficient device that doesn't require any floor area. Due to its wall mounting, the region has more room and is simpler to clear. This is especially helpful in tiny bathrooms or kitchens with limited area.
6. Versatility:
Plumbing fittings called stop cocks with wall flanges are adaptable and have a wide range of uses. They can be useful anywhere where controlling water flow is necessary, including restrooms, kitchens, laundry areas, and other spaces.
How To Choose the Right Way Angular Stop Cock with Wall Flange Supplier?
It is difficult to select the proper angular halt cock with wall flange if you are unfamiliar with plumbing fittings. Here are some details to think about when selecting the right wall flange-equipped angled stop cock:
1. Material:
When selecting the appropriate fastener, the stop cock with wall flange's substance must be taken into account. The most widely used substance is brass because it is the most resilient and long-lasting. Brass lasts longer than stainless steel, but stainless-steel costs more. The least expensive material, plastic is less enduring than copper and stainless steel. Choose a substance based on your requirements and financial constraints.
2. Size:
Another important element to take into account is the size of the stop cock with wall attachment. It should be the same dimension as the pipes in your drainage system. Make sure to take precise measurements of the pipe size to prevent purchasing a stop cock that is too small. Leaks and other plumbing problems can result from a stop pin that is not properly set up.
3. Type:
Straight and slanted stop cocks are the two varieties available with wall flanges. When pipelines are going straight, they stop with straight stop cocks. Whereas, when they are slanting, they stop by angled stop cocks. When selecting the appropriate stop cock, take your piping system's structure into account.
4. Brand:
When selecting the proper method angled halt cock with wall flange, a reliable name is crucial. Reputable manufacturers create long-lasting, high-quality water fittings. They also offer a guarantee and post-sale assistance to make sure you get the most for your money. Before making a buy, compare various brands and study customer evaluations.
5. Price:
Cost is an essential consideration of the stop cock with wall flange. Make sure the stop cock you choose is of high quality and sturdy construction while staying within your budget. A poor-quality stop cock can result in serious sewage problems and expensive fixes.
6. Functionality:
When selecting the ideal fastener, take into account the stop cock with wall flange's utility. To save room, look for features that are simple to implement and maintain. Long-term durability and financial savings come from this product that is simple to install and keep.
In conclusion, selecting the ideal angular stop cock with a wall flange necessitates careful evaluation. You must evaluate the name, price, usefulness, size, type, and substance of the product. Consider all of your choices carefully, and seek the advice of a qualified plumber if necessary. This will help you select a device that fits both your requirements and your budget. By doing this, you can make sure that your piping system runs smoothly and lasts a long time.